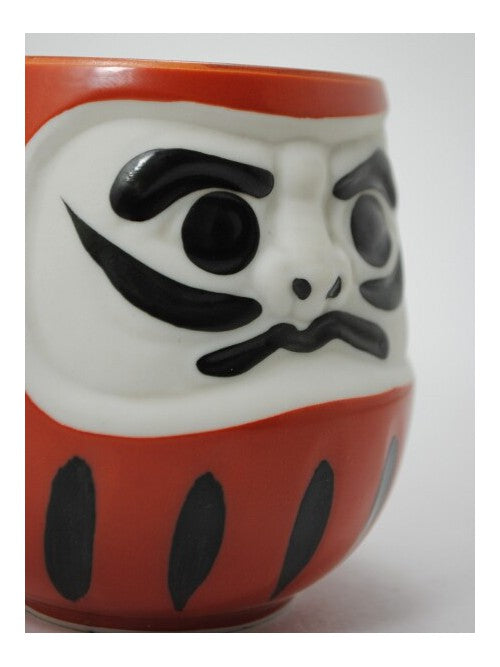 Monk's Chai Handmade Japanese Daruma Mug
Dive deep into chai bliss with our signature spicy, heavenly and delicious Monk's Chai.
In celebration of the Lunar New Year, Daruma Mugs will be available Free with chai purchases over $99.00. This is not applicable with free shipping or any other offer. 
T&C's apply*
Monk's Chai signature Daruma Mug. This beautiful design is fashioned after Monk Bodhi Dharma the first patriarch of Zen Buddhism. Our beautiful ceramic vessels are lovingly made by hand in strictly limited numbers near Fukuoka in Japan. 
The mug fits perfectly in your palm and radiates the most gentle warmth through your hands as you enjoy your Monk's Chai. Elevate your sensory experience. 
T&C's
Limit 1 per customer
No choice of colour
Due to limited quantities, we are not offering these for direct sale.
Online fulfillment only.  Redemption of this offer is not available through Admiral Cheng Ho, Bayano the Rebel or Monk Bodhi Dharma. 
Any direct online purchases will be cancelled and refunded. 
I have backpacked through India and ravaged the Melbourne cafes, and Monk's Chai is hands down the BEST chai I have ever had. It has a beautiful flavour with the most amazing balane of spice, it's addictive and I'm obsessed. You may just buckle at your knees on the first sip it's that good. Monk's Chai is the king of chai, so if you are a chai lover (and even if you are not) look no further, cause you have found the best of the best!

Duncan Parviainen, RYT 500
🌟🌟🌟🌟🌟" NOTHING STARTS THE DAY BETTER THAN A MUG OF SPICY + SWEET GOODNESS. MONK'S CHAI MAKES THE BEST ORGANIC + VEGAN CHAI BY HAND IN AUSTRALIA." Lily T.

Nobody makes it better. This is the best chai by some of the best humans we know. Whether it's a quick takeaway or a slow brew at home, Monk's Chai is always comforting. Pro-tip it tastes amazing as a cold brew or iced for the summer time too!

So glad they are sell on the website now. So Delicious as always. Chais and Chai Latte is the best with Monk's. Because I living 250K out of melbourne. now I can make the Chais at home like in Admirals Restaurant Cheng Ho.